Getting started with FODZYME
Updated 2 months ago
You're one step closer to painless meals.
We're on a mission to make food painless by developing effective solutions through advanced scientific research. FODZYME® was developed in Cambridge, MA by founders and scientists trained at Harvard, Cornell, and Yale.
Having experienced the struggles of food avoidance and restrictive diets first-hand, we decided it was time for a better approach. In a world of solutions that target your lifestyle, we created a product that targets your food.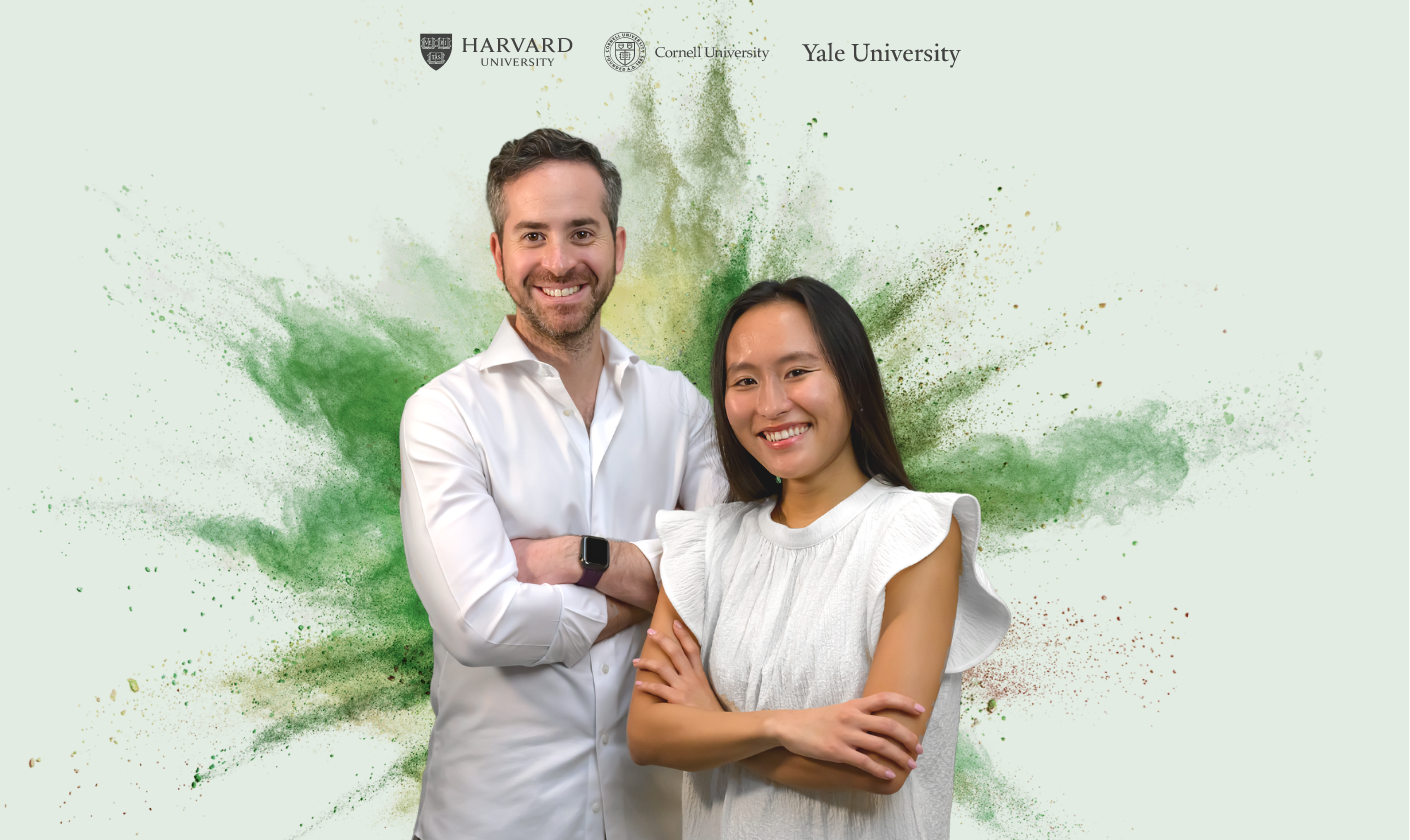 How to try FODZYME® for the first time
New to the low FODMAP diet?
Sprinkle 1 dose of FODZYME on the foods you were planning on eating anyway and see if there's a change in your gut symptoms. Please keep in mind, FODZYME does not yet target polyols.
Know your triggers?
Start with a small serving of one trigger food (see p.6) with 1 dose of FODZYME . If you feel well, increase the portion or add another trigger the next day. Then, try a full meal with multiple triggers. See the Ramp-up Protocol on p.8 for more.
You can always go up to 1.5 or 2 doses for foods with a higher FODMAP content, or if you are particularly sensitive to FODMAPs.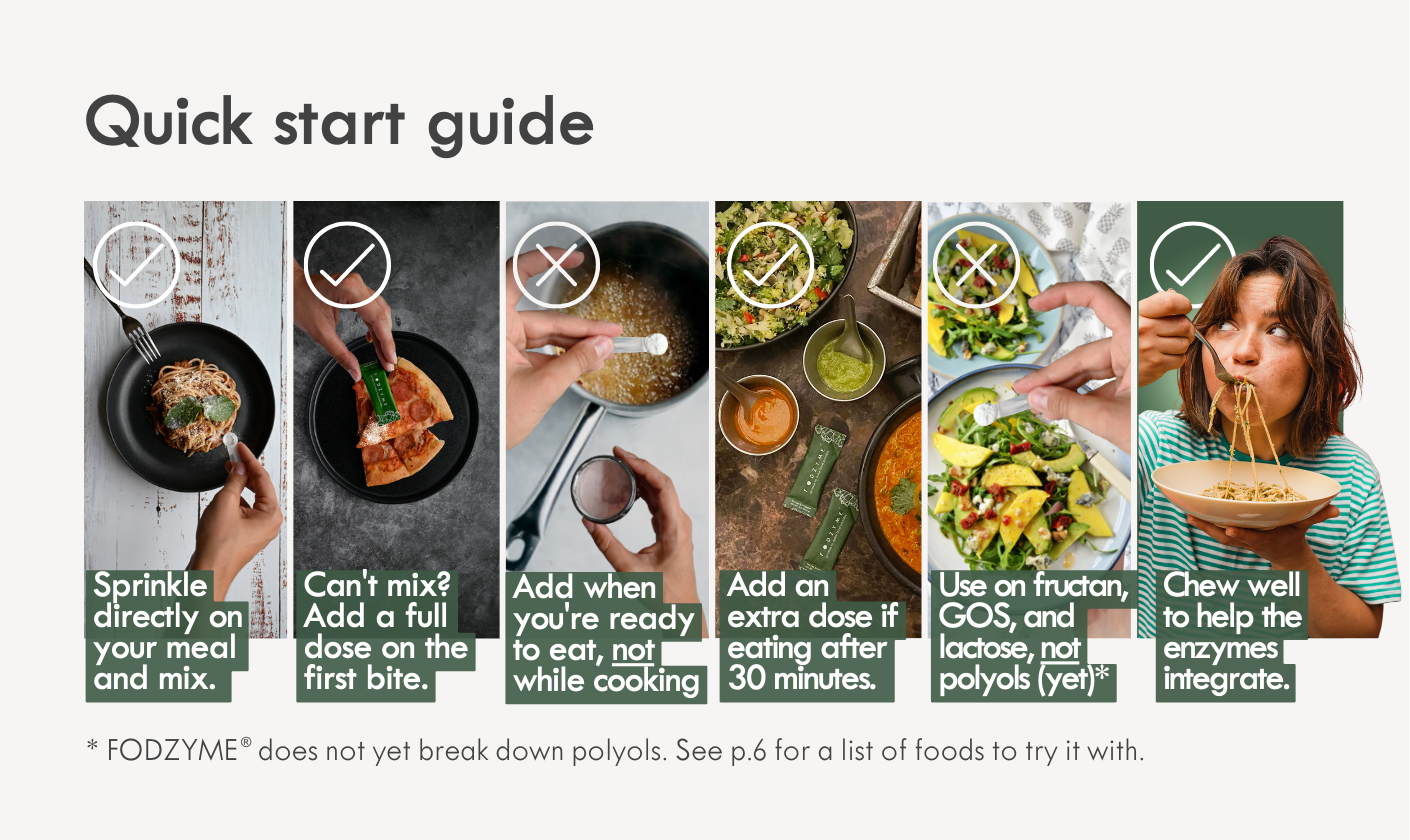 Try FODZYME on these foods
FOODS HIGH IN FRUCTAN & GOS
Garlic, Onion, Wheat*, Brussels sprouts, Zucchini, Leek, Baby spinach, Almonds, Artichoke, Banana, Beans, Beetroot, Cashews, Chickpeas, Cranberries, Dates, Grapefruit, Lentils, Peas, Pistachios, Pomegranate, Scallion, Shallots, Silken tofu
* FODZYME significantly reduces fructan in wheat products, not gluten.
FOODS HIGH IN LACTOSE
Ice cream, Cottage cheese, Cream cheese, Ricotta, Milk & buttermilk, Kefir, Yogurt, Custard
FOODS HIGH IN POLYOLS (FODZYME DOESN'T BREAK DOWN)
Apple, Apricot, Avocado, Blackberries, Cabbage, Cauliflower, Celery, Cherries, Eggplant, Green beans, Lychee, Mushrooms, Nectarine, Peach, Pear, Plum, Prune, Sauerkraut, Sweetcorn, Sweet potato, Watermelon
The ramp-up protocol
Reintroducing trigger foods that cause symptoms can leave you anxious. Here's a structured approach to help you face your fears.

Avoid consuming polyols (if you're sensitive to them) or other known non-FODMAP trigger foods to ensure validity.
But let's take a step back: FODMAPs are good
(even though they cause trouble)
FODMAPs are short-chain carbohydrates that move through our bodies undigested. They function as healthy prebiotic fibers and promote good gut bacteria. However, these carbohydrates are also poorly digested and can trigger gut symptoms like abdominal pain, constipation, excessive gas, bloating, and diarrhea [1].
With FODZYME®, you get the best of both: providing your body with the nutrients it needs, yet reducing the negative effect of FODMAPs.
Enzyme chemistry 101
An enzyme is a highly specialized protein that acts on a specific molecule, called the enzyme's substrate. You can think of enzymes as specialized molecular scissors. Fructans can be broken down by fructan hydrolase, a key ingredient in FODZYME.
Enzymes are not one-size-fits-all
Conversely, alpha-galactosidase, another enzyme ingredient in FODZYME®, will not bind to a fructan molecule but will bind to and break down a GOS molecule.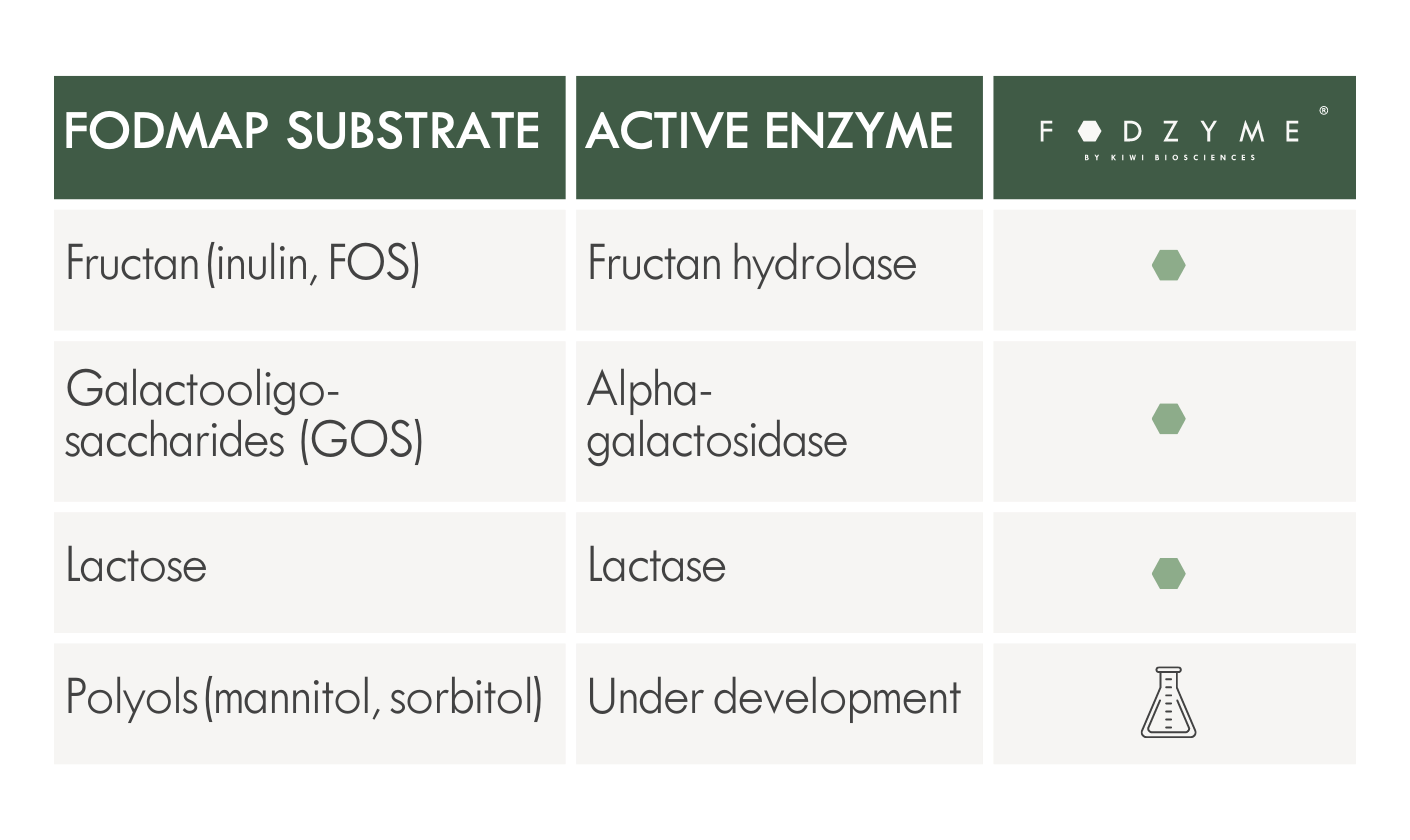 FODZYME 's fructan hydrolase is a wide-spectrum enzyme that breaks down fructans, including inulin and fructo-oligosaccharides (FOS).
How FODZYME can help
FODZYME® works as you digest your meal by breaking down the FODMAPs into simple sugars, that are quickly absorbed in the small intestine, effectively reducing the amount of FODMAPs in your gut.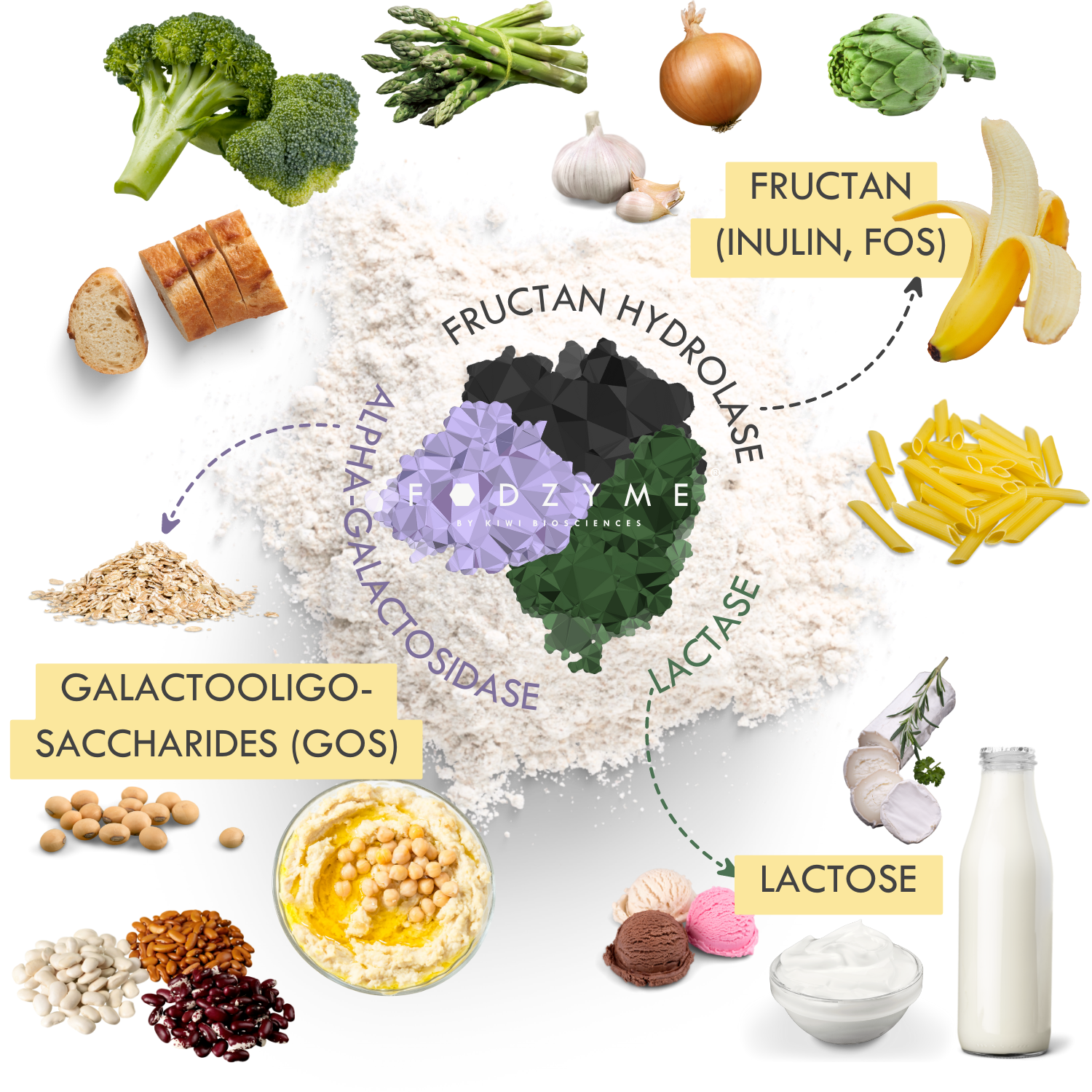 Why is FODZYME® a powder?
Most enzyme products are sold as capsules/pills. Why is FODZYME® doing things so differently? Because it's exceptionally more efficacious.

Within a capsule, enzymes are confined and isolated from the substances they are supposed to break down! Gradually, the enzymes deactivate in the stomach and are digested themselves. Powder integrates easily and distributes freely in food in the gut, so our enzymes are actually able to physically get to the FODMAPs to break them down.
For best results, add FODZYME directly to trigger foods and drinks.
Proven by science
We tested FODZYME 's efficacy through SHIME [2], a scientifically validated model of a human gut. A dose of FODZYME was added together with 3g of inulin (a common type of fructan found in garlic, onion, and wheat, among many others) to see how effectively FODZYME 's fructan hydrolase breaks down fructan [3].

Fructan was rapidly broken into simple fructose and glucose with ~90% of inulin degraded within 30 minutes. The study also showed that 70% of fructose was absorbed during the simulated small intestinal transit, thus reducing gas [3].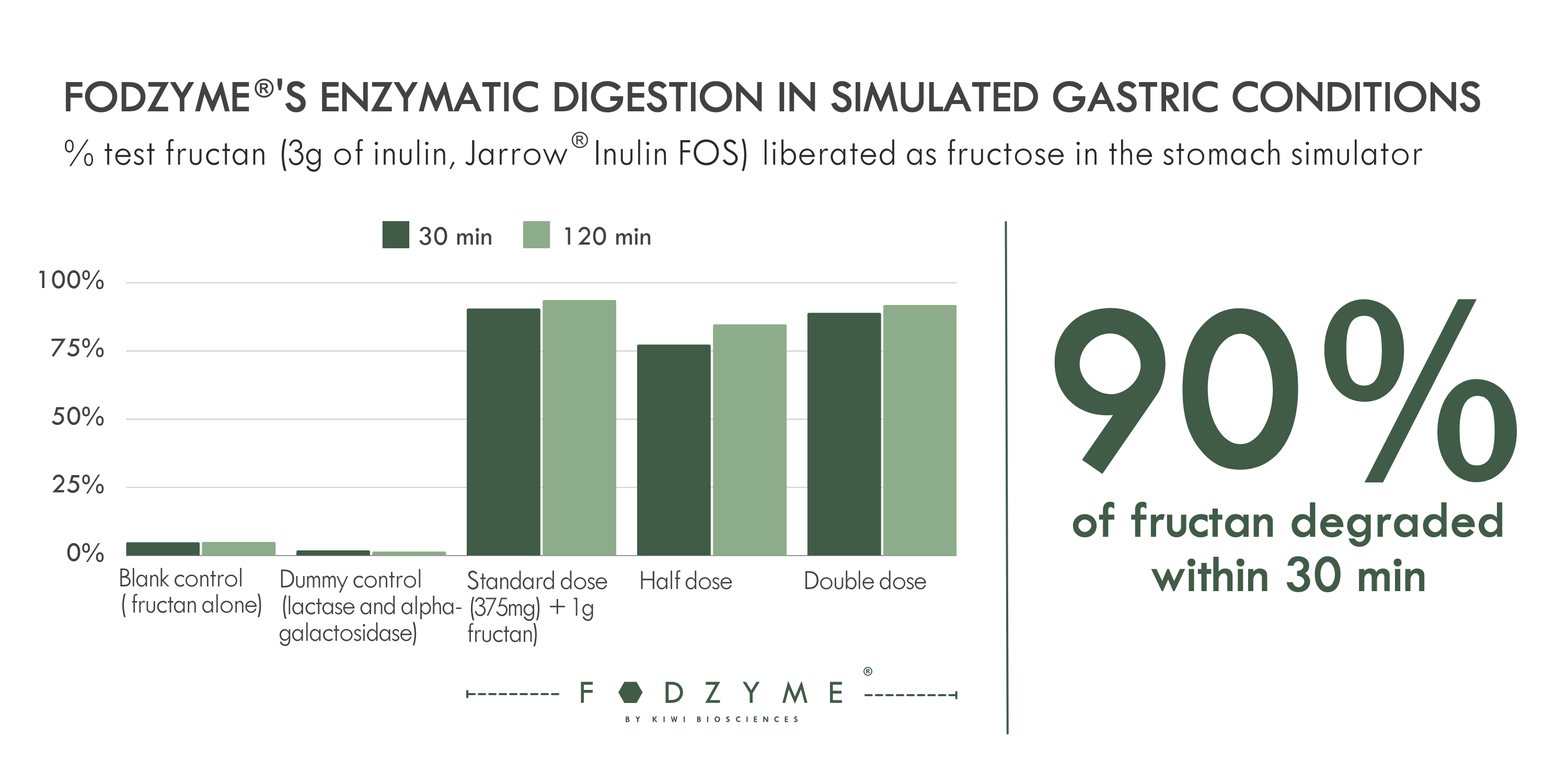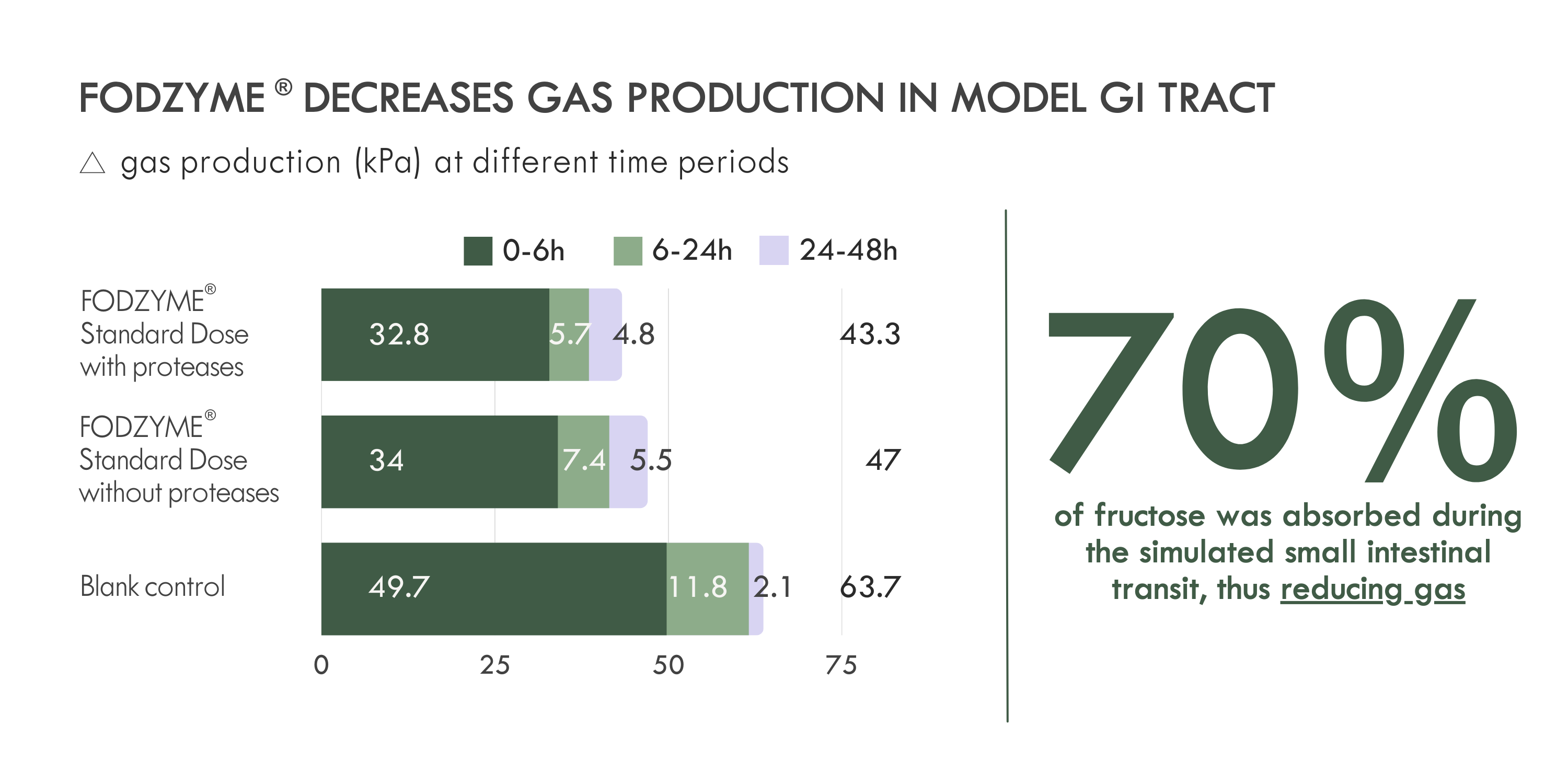 We also found that Short Chain Fatty Acids (SCFA) production was reduced but not depleted, meaning our enzymatic approach may be more favorable to overall colonic health than avoiding FODMAPs altogether [4].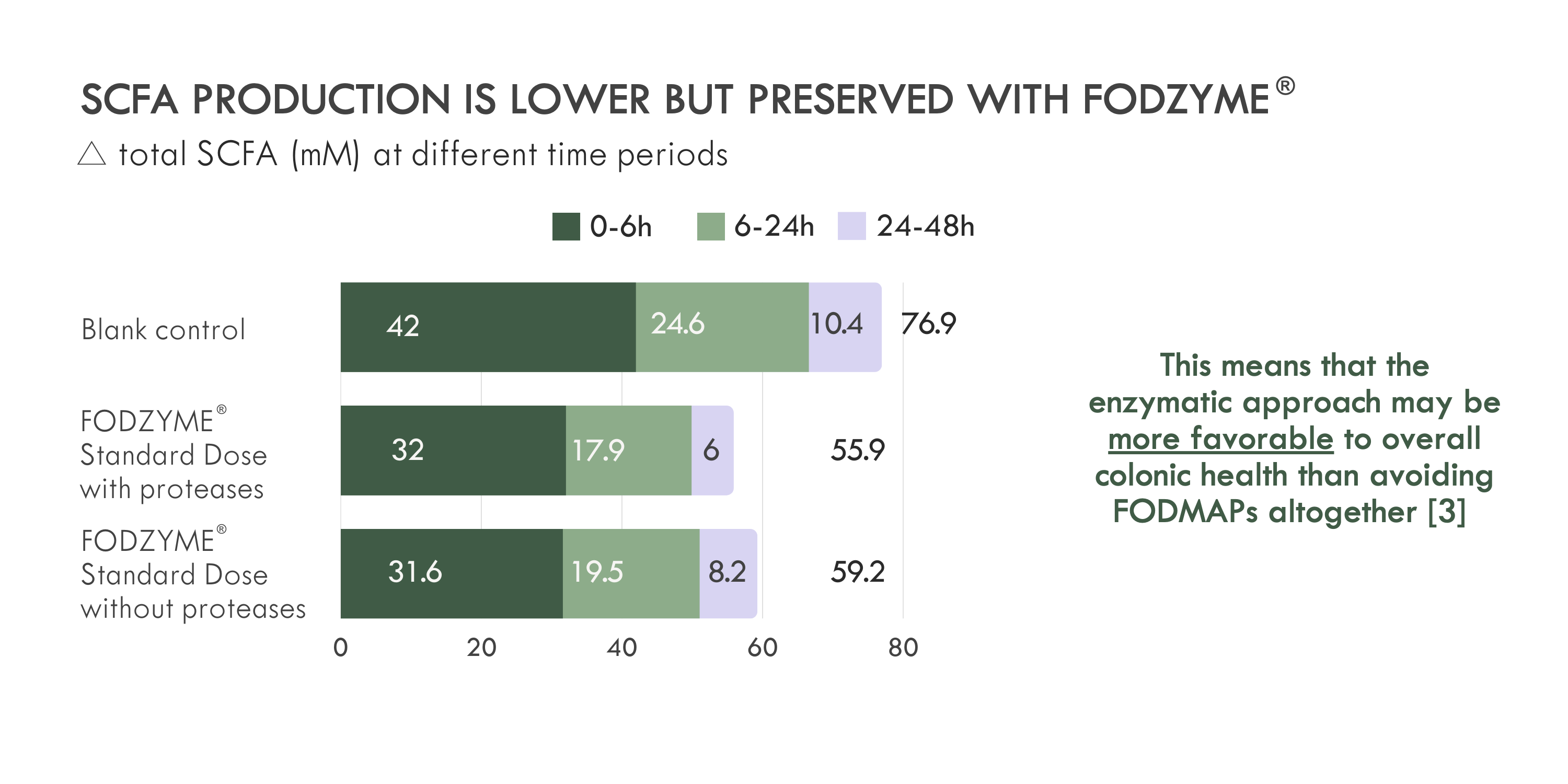 The Benefits of Short-Chain Fatty Acids
The elimination phase of the low FODMAP diet entirely removes fibers from your diet that the gut microbiota ferment to produce SCFAs. SCFAs have a plethora of benefits for our microbiome and overall health, including reducing the osmotic load (which can help with bloating), improving gut barrier integrity (supporting metabolism), regulating the immune system, and more.
With FODZYME®, you may be limiting, but not depleting the SCFA production. Your body is still getting those benefits, which is great for overall colonic health. There is a benefit to using FODZYME® if you're the low FODMAP diet isn't for you, or if there's a history of eating disorders.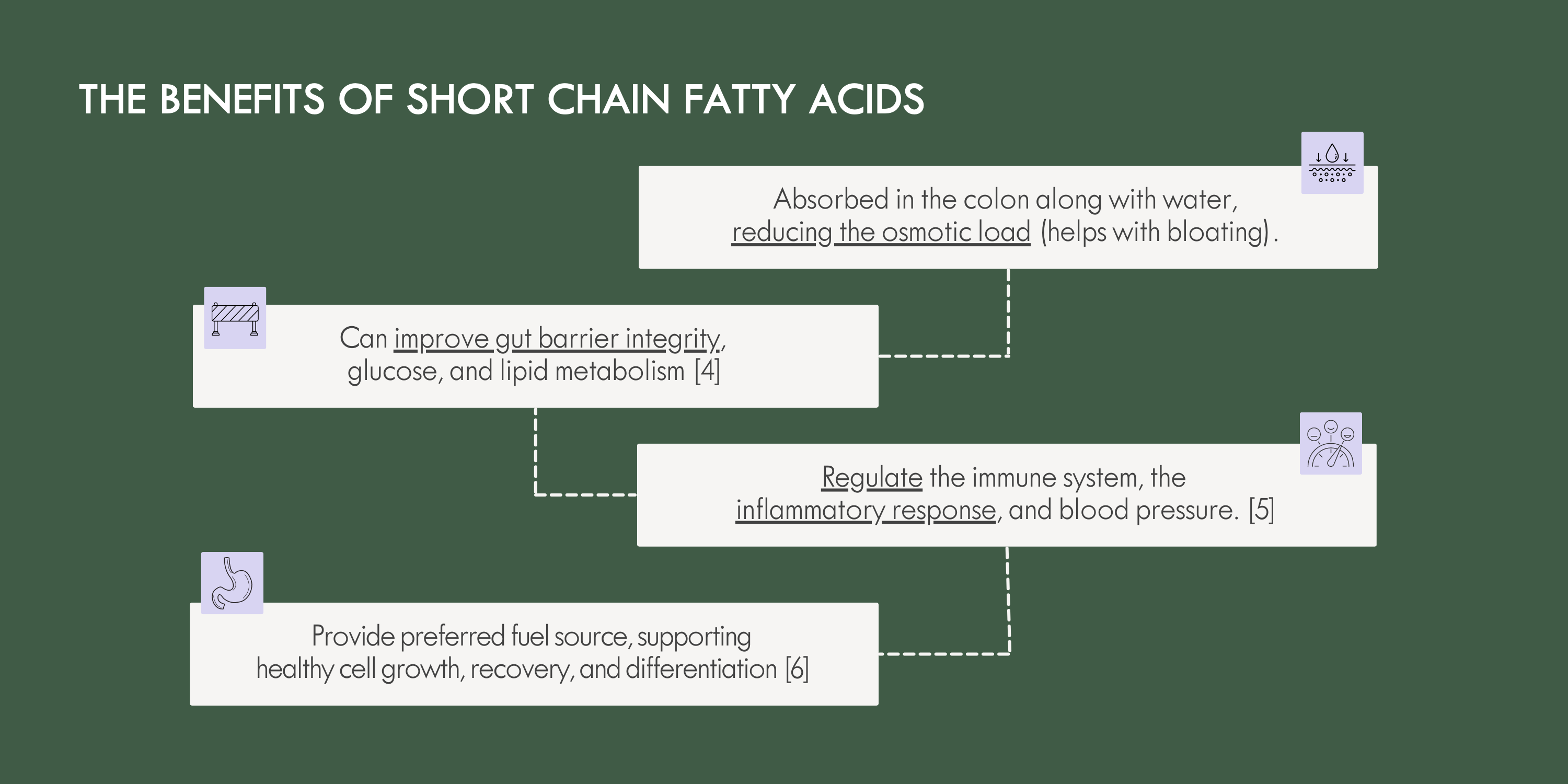 FAQ
Can I cook with FODZYME®?
The enzymes deactivate at very high temperatures. We don't recommend using FODZYME while cooking. When the food is cooled to below 140°F / 60° C (normal eating temperature), sprinkle FODZYME and enjoy!
I'm extra sensitive - can I use more than one dose?
Absolutely! Everyone's tolerance levels are different. Feel free to double the dose or add a "booster" dose after 30 mins. There's no risk to using more. You digest enzymes as proteins - they don't stay in your body.
Can I mix FODZYME® with water and drink it?
It's best to add the powder directly to the trigger food or beverage. While it's ok to add to soups or smoothies, mixing it with a glass of water on the side separates the enzymes from the problem they're meant to address.
References
[1] Gearry R, Skidmore P, O'Brien L, Wilkinson T, Nanayakkara W. Efficacy of the low FODMAP diet for treating irritable bowel syndrome: the evidence to date. Clinical and Experimental Gastroenterology. Published online June 2016:131. doi:10.2147/ceg.s86798
[2] Van de Wiele T, Van den Abbeele P, Ossieur W, Possemiers S, Marzorati M. The Simulator of the Human Intestinal Microbial Ecosystem (SHIME®). The Impact of Food Bioactives on Health. Published online 2015:305-317. doi:10.1007/978-3-319-16104-4_27
[3] Ochoa K., Samant S., Liu A., Duysburgh C., Marzorati M., Singh P., Hachuel D., Chey W., Wallach T. (2022). In-Vitro Efficacy of Targeted FODMAP Enzymatic Digestion (FODZYME®) in a High-Fidelity Simulated Gastrointestinal Environment Published online May 2022. bioRxiv 2022.05.16.492152;doi: https://doi.org/10.1101/2022.05.16.492152
[4] Wong JMW, de Souza R, Kendall CWC, Emam A, Jenkins DJA. Colonic Health: Fermentation and Short Chain Fatty Acids. Journal of Clinical Gastroenterology. 2006;40(3):235-243. doi:10.1097/00004836-200603000-00015
[5] Nogal, A., Valdes, A. M., & Menni, C. (2021). The role of short-chain fatty acids in the interplay between gut microbiota and diet in cardio-metabolic health. Gut Microbes, 13(1), 1–24. https://doi.org/10.1080/19490976.2021.1897212
[6] Alexander, C., Swanson, K. S., Fahey, G. C., & Garleb, K. A. (2019). Perspective: Physiologic Importance of Short-Chain Fatty Acids from Nondigestible Carbohydrate Fermentation. Advances in Nutrition, 10(4), 576–589. https://doi.org/10.1093/advances/nmz004
[7] Rastall RA, Gibson GR. Recent developments in prebiotics to selectively impact beneficial microbes and promote intestinal health. Curr Opin Biotechnol. 2015;32:42-46. doi:10.1016/j.copbio.2014.11.002
Was this article helpful?